Welcome to Weekend Potluck 544,
we are so happy you could join us!
This week's features – Easy Pineapple Coconut Cake, Smothered Chicken with Bacon and Tomatoes, Rigatoni Primavera and Crackle Top Fudge Brownies.
Every Friday morning, stop by Sweet Little Bluebird for our Weekend Potluck party, a place where top food bloggers have come to link up their best and latest recipes for over 10 years! Each week we feature the most viewed recipe from the previous party along with recipes that caught our attention. We also have a featured recipe from one of the hostesses.
Your Hostesses
Let's take a quick peek back at last week!
**SIMPLY CLICK ON THE PHOTO (RECIPE) YOU LIKE BELOW AND IT WILL TAKE YOU TO THE BLOGGER'S POST WITH THE RECIPE**
THE RECIPE WITH THE MOST CLICKS:
Easy Pineapple Coconut Cake by Out of the Box Baking
RECIPES THAT CAUGHT OUR ATTENTION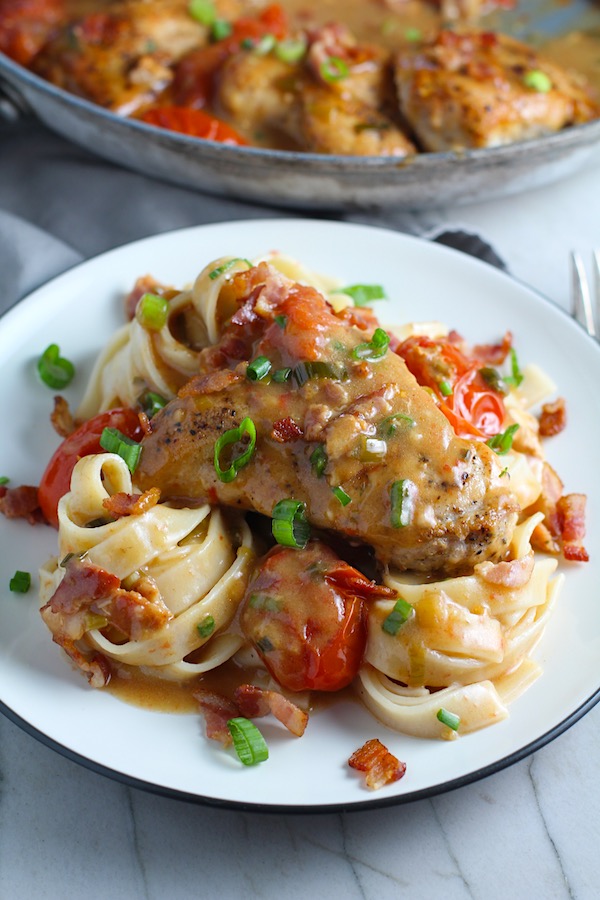 Smothered Chicken With Bacon And Tomatoes by Talking Meals
Rigatoni Primavera by The Copper Table
FEATURED HOSTESS RECIPE:
Crackle Top Fudge Brownies by South Your Mouth
YOUR HOSTESSES:
South Your Mouth~ Mandy
Sweet Little Bluebird~ Mary
The Country Cook~ Brandie